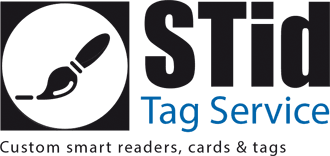 Customize your industrial tracking applications to the colors of your business

Customized readers

Smart lighting - LED customizations (7 colors)
Logo customizations - Digital UV printing or pad printing
Skin Effect casings

Customized tags

Graphic customization (logos, references, serial no., barcodes, QR codes, etc.)
Personalized encryption
Many material skills (on-metal tags, paper, silicone, etc.)
Our advantages, your benefits
Custom know-how

STid Tag Service offers added value for your contactless identification applications by customizing graphic and technological elements of your tags and readers.

Our processes and equipment offer you tailor-made production, with responsive, high-quality customization.

Controlled data security

All your sensitive data handled by Tag Service are stored safely and confidentially (covered by a nondisclosure agreement).

All electronic customization services for cards and readers (encoding, mapping, etc.) are managed over a secure link.

Our DTP skills at your disposal

STid helps you produce your graphics.

A skilled team of graphic designers is ready to listen and help you with your customization needs.