UHF industrial multi-antenna readers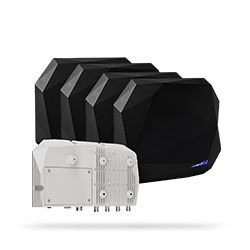 STid offers an innovative range of RFID UHF multi-antenna readers for item tracking in all industrial enviroments, even the most harsh. Those high-performance readers meet the needs of logistic and tracking applications: real-time asset management, track and trace of RFID-tagged tubs, pallets, rolls, containers etc.

TAKE ADVANTAGE OF THE OFFER

* Limited Offer: 1 SPECTRE Starter Kit per organization, valid until June 30, 2021. Cannot be combined with any other current promotional offers. The Starter Kit includes: an SMI or SME reader, a SPECTRE antenna, an accessory kit, and a UHF tag kit.
** Return with credit or refund based on 95% of the initial value ordered. The return must be made within 45 days of the delivery date and in its original and complete condition (packaging, accessories, instructions). In this context, your responsibility is in effect: any damage suffered by the product on this occasion may be such as to negate the right of return. Return costs are your responsibility.